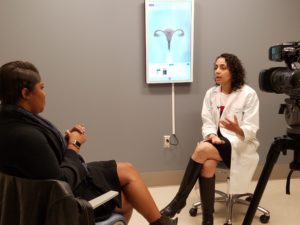 UBMD Obstetrics & Gynecology announced a new gynecology access program on Channel 7 (WKBW).  See press release below.
PRESS RELEASE
Buffalo, NY -A broader range of medical services for women will be available downtown, now that UBMD Obstetrics & Gynecology is instituting a new office-based gynecologic procedure access (OBGA) program at its downtown office. The program is funded by a $15,000 grant from the Garman Family Foundation administered by the Community Foundation for Greater Buffalo.
Located in the Conventus building on the Buffalo Niagara Medical Campus, UBMD Obstetrics & Gynecology (OBGYN) will use the grant to purchase equipment that will allow the practice to perform procedures that until now have only been available in suburban locations or hospital settings.
The practice will use the grant to purchase a bladder scanner, cystoscope and hysteroscope equipment, as well as an additional exam table. This enables the practice to enhance its diagnostic and treatment offerings to patients. The new equipment will allow the physicians to see inside the bladder, identify abnormal bleeding, and collect and remove abnormal or cancerous cells that may have been identified during pap smears.
"Our primary aim is to improve the health and well-being of women in Western New York by diminishing access barriers to quality gynecological care in downtown Buffalo," said Tova S. Ablove, MD, program founder and urogynecologist with UBMD OBGYN. "There are very few providers offering in-office gynecologic procedures to patients in downtown Buffalo, and our patients have limited financial resources and often cannot afford the out-of-pocket costs of in-hospital procedures, which often have large copays."
Ablove, an associate professor at the Jacobs School of Medicine and Biomedical Sciences at the University at Buffalo, said that patient care can be compromised when these necessary procedures are not performed because of the financial, social and health constraints patients face.
"Making this technology available in our downtown office will increase the chances these necessary procedures take place," Ablove continued. "Many of our patients lack transportation, have multiple dependents, or need to be accompanied by a family member to appointments, which also makes it more difficult to coordinate appointments."
The in-office procedures in Buffalo will be more efficient, easier to schedule, and are less expensive, reducing the healthcare burden on patients.
Vanessa Barnabei, MD, PhD, president of UBMD OBGYN, and chair of the Department of Obstetrics and Gynecology in the Jacobs School, said there are also emotional benefits to patients.
"Young adults and those with pelvic health concerns (concerns related to the bladder, vagina, uterus and rectum) will be able to have testing and diagnosis on-site without needing to travel or see someone else. As this can be a sensitive topic to many women, having these tests done with the same physicians and staff they already know can help ease some of the associated anxiety."