Gynecological care for all stages of a woman's life
Our range of gynecological care includes preventive services, from annual gynecological exams to evaluating and treating various gynecological conditions. For women of childbearing age, we provide prenatal care and delivery and manage contraceptive options. Women can access the newest prevention techniques, technology and treatment from our team of caring women's health professionals.
Preventive gynecological exams (well-woman visits)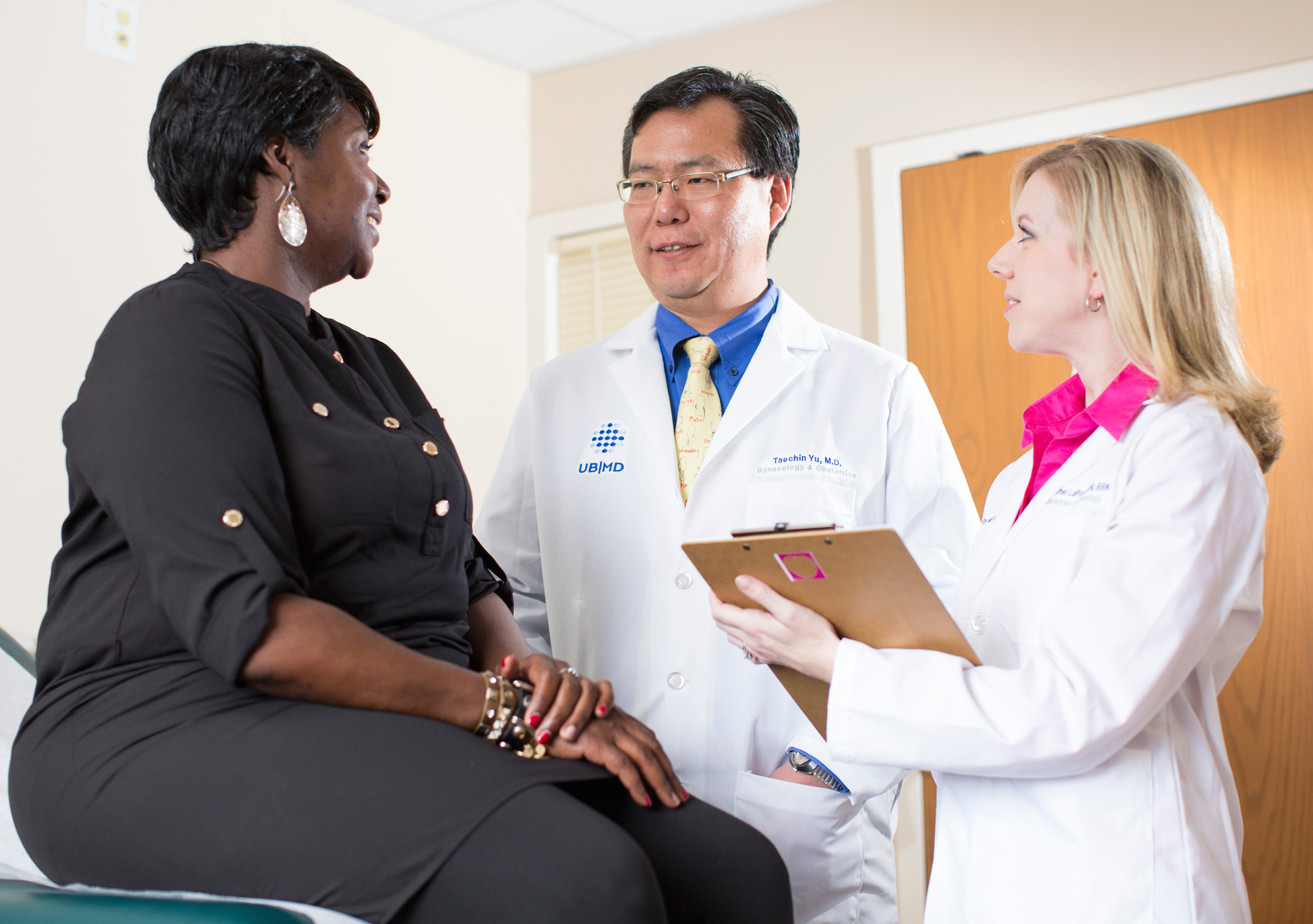 This preventive exam is typically done annually to ensure that your female organs are healthy and allows your doctor to find and treat any female-related health concerns before they turn into greater medical problems. If you have any questions or concerns before, during or after your exam, we encourage you to speak candidly to your doctor. While this checkup often doesn't top most patients' list, it's important that you disclose any questions or concerns you have with the doctor to make sure you're getting the best care possible.
Gynecological disorders
Our doctors provide treatment for an array of gynecological disorders, including:
Vaginal bleeding—This includes abnormal bleeding or spotting outside of your monthly menstrual cycle.
Endometriosis—When endometrial tissue appears outside the uterus, this is known as endometriosis. Women experience heavy or irregular menstruation, pain in the rectum, pelvis, vagina, lower abdomen or back, bloating, inability to have a bowel movement or constipation.
Pelvic pain—If you're experiencing pelvic pain, your doctor will examine your symptoms and provide a diagnosis and treatment.
Ovarian cysts—Ovarian cysts can cause pain in the pelvis, vagina, side, lower abdomen, back and can cause painful or irregular menstruation or spotting.
Uterine fibroids—These noncancerous growths appear on the uterus, generally during childbearing years and cause pelvic pain and irregular periods.
Vulvovaginal complaints—If you're experiencing pain, discomfort or a yeast infection, there are treatment options available.
Menopausal symptoms—Your doctor can help you manage your menopausal symptoms such as hot flashes, vaginal dryness, increased anxiety or irritability.
Abnormal pap smears—Should your pap smear be abnormal, we can conduct further diagnostic testing to find the treatment that's right for your condition.
Birth Control Counseling
Birth control is used for a variety of reasons—to prevent pregnancy, to manage an irregular or uncomfortable period—even to treat acne or endometriosis. There are several types of
birth control, and our doctors will talk with you to help decide which is right for you.
Your options:
Oral contraceptives
NuvaRing
Hormone shots
Diaphragm
IUD (Mirena, ParaGard)
Patch (Ortho Evra)
Implant (Implanon)
If you're interested in starting a contraceptive plan, make an appointment by calling 716-636-8284.
Obstetrical Services
Prenatal care
Prenatal care ensures a healthy pregnancy for mom and baby. From the moment you suspect you're pregnant, prenatal care should begin. Your prenatal care plan will differ for each trimester:
First trimester
Typically, your appointments will occur once every 4 weeks during the first trimester. During your first appointments, your doctor will determine your estimated due date, assess your overall health, check your blood type and measure your hemoglobin and screen for potential fetal abnormalities. At about nine to 12 weeks, you could potentially hear your baby's heartbeat for the first time!
Second trimester
During your second trimester, you'll see your doctor about once a month. Your baby's growth will be tracked through manual exams and ultrasounds, the heartbeat will become more prominent and you'll start to feel movement. Your doctor will continue to monitor your weight and blood pressure and check for things like low iron levels or gestational diabetes. Various prenatal screening tests will be available to you, such as screenings for developmental or chromosomal abnormalities, including spina bifidia (where the spine fails to develop properly). Your doctor may order more diagnostic testing if you or your baby are at risk.
Third trimester
The third trimester includes weekly checkups. Your doctor will check your baby's position and size to ensure he or she is growing normally. As your due date approaches, your doctor will evaluate your cervix to see how much it's dilated. At birth, your cervix will be dilated 10 cm.
For high risk pregnancies, our team of maternal fetal medicine specialists will provide a multi-disciplinary personalized care plan that's right for both you and your baby.
During your prenatal visits, your doctor will talk to you about healthy habits such as nutrition, exercise, and other lifestyle habits that affect your health and your baby's. Your doctor will answer any and all questions you have about your pregnancy. This is truly an exciting time in your life, and you should be able to take comfort in knowing that you and your baby are receiving high-quality prenatal care.
No matter what stage of life you're in, gynecological health is important for your overall well-being. We're here for you for every stage and for every question. To make an appointment or if you have questions, call us at 716-636-8284.